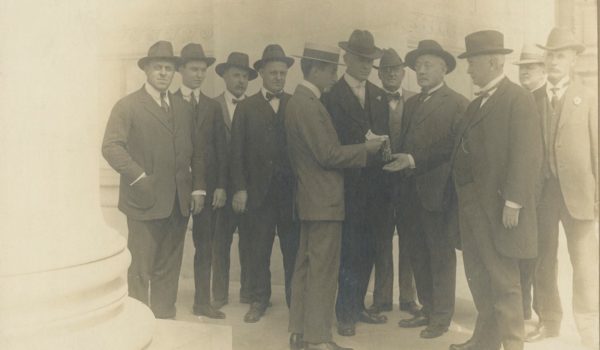 The Missouri State Capitol Commission and the Friends of the Missouri State Museum invite you to a special event to commemorate the centennial of the completion of the Missouri State Capitol Building.
On September 13, 1917, the State Capitol Commission Board received keys to the nearly-complete Missouri State Capitol, which were presented by David Aronberg, a representative of John Gill and Sons Company, the building contractor.  This transfer ended a stormy relationship between the two parties and enabled the Commission to closely inspect the building and supervise the final construction details before officially declaring the building complete.
Please join us to celebrate the centennial of this milestone event on Wednesday, September 13, 2017, in the third-floor rotunda of the Missouri State Capitol.  A reception, special exhibits, and a silent auction of exclusive Capitol prints from the Missouri State Museum's photograph collection will be held. Proceeds from the auction will benefit the conservation of the Missouri State Museum's diverse collection of artifacts.
The event is open to the public.  Reception begins at 1:00 PM.  Silent auction begins at 11:00 AM and ends at 2:30 PM. A special exhibit presented by the Missouri State Archives showcasing the construction and decoration of the Missouri State Capitol will be on display through the week.
Please click here to view the invitation and additional details.
We hope to see you there!