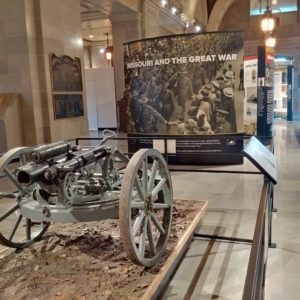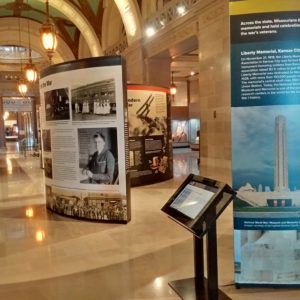 The History Hall within the Missouri State Museum is the temporary home of an interactive new exhibit, Missouri and the Great War. The nearly 900-square foot exhibit will feature photos, stories and video segments detailing how Missourians actively contributed to various aspects of the war effort. The exhibit is a collaboration between the Missouri Humanities Council and the Springfield-Greene County Library District, and will be on display in the State Capitol until August 27, 2017.  See below for more details.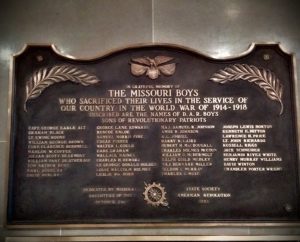 April 2017 marked the 100th anniversary of America's entry into the First World War. But even before America joined the hostilities, Missourians actively contributed to various aspects of the war effort. Missouri industries fulfilled military contracts to supply mules, munitions and other goods to Allied armies. More than 156,000 Missourians served in the war, including future president Harry S. Truman, Walt Disney, and Generals John J. Pershing and Enoch Crowder.
To tell these stories, and others, the Missouri Humanities Council has partnered with the Springfield-Greene County Library District to develop the traveling exhibit, Missouri and the Great War, which opened at the Missouri State Capitol on June 30.
The exhibit features seven double-sided panels exploring the many facets of World War I history told through the perspective of Missouri and Missourians. Visitors will learn about the contributions of Missouri women and African Americans to the war effort, and discover the vital role Missouri horses and mules played in the war despite the military adopting new technologies such as motorized vehicles. Each panel features historical images and artifacts from museums,
libraries, archives and private collections from across the state.
Accompanying the exhibit are two touch-screen kiosks, where visitors
can explore more content, artifacts, photographs, and discover the
locations of World War I monuments located throughout the state. The
exhibit will also feature a new seven-minute documentary video
featuring footage from the war.
The nearly 900 sq ft. exhibit will travel across Missouri from June
2017 through 2019.  The Missouri State Museum is open seven days a week.  Capitol tours are conducted daily.