On May 4, 1917, August "Gus" Baker, one of hundreds of construction workers hired to perform finish work on the newly-built Missouri State Capitol, died as a result of a fall from scaffolding in the upper rotunda.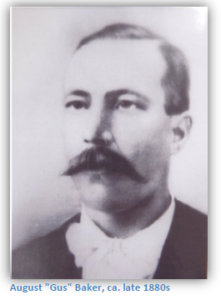 The story of Gus Baker is one similar to that of many of the workers who came to Jefferson City to help build the new Capitol. He was a German-born immigrant who settled in Callaway County in the 1890s. He was in his early 50s when the Capitol was under construction, and was hired as a day laborer, to fill in and assist the construction crews as needed. He lived several miles north of Jefferson City on Highway 94, which required that he "hop the train" (the MKT; now known as the Katy Trail) or hitchhike to North Jefferson City (then known as Cedar City) where he would cross the Missouri River bridge and head to the work site.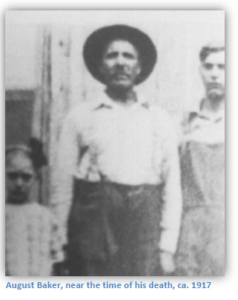 Roger Baker, the Grandson of Gus, describes his late grandfather as "a bit 'goosey,'" an old term that implies that he might have been a nervous fellow. On the day of his death, Gus was working on removing scaffolding in an "upper rotunda" (probably the third-floor rotunda), where it is thought that a loud noise startled him, causing him to lose his balance and fall to the first floor. He was taken to St. Mary's Hospital, where he lived for a few hours, but died later in the night.
In memory of his grandfather, a memorial wreath, donated by the family of August "Gus" Baker will be displayed in the first-floor rotunda on the one-hundredth anniversary his death. The display will also memorialize all of the workers who died on the jobsite during the Capitol's construction.
Find out more about the workers who helped construct the Missouri Capitol, including a list of those who lost their lives while on the job site.  The link above also includes some unique photos of several unnamed workers who helped construct the Missouri State Capitol.